MKTG's IPTV system manages the content on the hundreds of TV screens at the MCG and Marvel Stadium. These screens are used for advertising as well as menus, way-finding and house-keeping.
There are 4 different content layouts that are used to cover all the screen sizes and uses.
If you require assistance understanding these specs or need help creating content, MKTG Studio is here to help.
We recommend bookmarking this website and joining our MKTG specs mailing list to make sure you always have the latest information.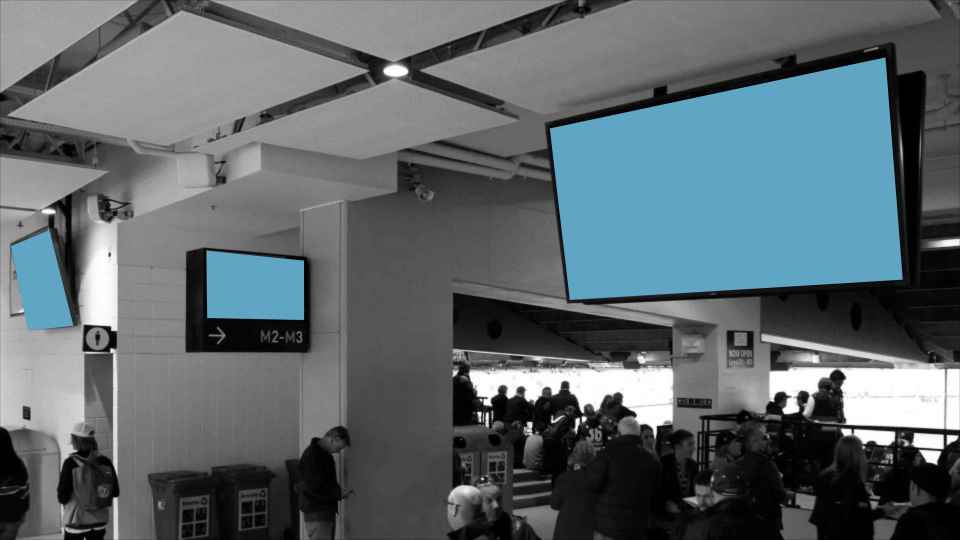 All content is to be provided through our upload and content management portal MKTG Drop.
You will need to be set up as a user, contact the MKTG Drop team to get started.
Instructions for how to use Drop are available here.
Instructions for re-using existing content are found here.
CLUB CONTENT, CLUB COMMERCIAL PARTNERS, CLUB FORM.
| Match day | Deadline |
| --- | --- |
| Thursday | Monday 12pm |
| Friday | Tuesday 12pm |
| Saturday | Tuesday 12pm |
| Sunday | Wednesday 12pm |
| Monday | Wednesday 12pm |
| Tuesday | Thursday 12pm |
| Wednesday | Friday 12pm |
| First Home Match | Content Deadline |
| --- | --- |
| Round 1 | Wednesday 23rd February 2022 |
| Round 2 | Thursday 3rd March 2022 |
| Match day | Deadline |
| --- | --- |
| Any | Monday 12pm |
Contact MKTG immediately if you are unable to meet these deadlines.
Click an image to get a better look at the layout requirements.
Render all graphics at the full 1920×1080 resolution. You must create all four formats to display properly.
Title safe: 60px around the edges of the screen.
Overhang: 50px. You may overhang a small amount of content on the L-Wrap, Strap and Side graphic.
These graphics can be images or short looping videos. Images should be .png files with alpha, video files should be .mp4s with the empty areas left black. IPTV video files are keyed out using a Luma key.
This means that anything that is perfect black will be keyed out, and the screens' regular content displayed in the blank spaces. This means you can not use perfect black in your video designs or must dilute any blacks so they do not key out.
Do not fade to black at the start or end of your animation.
An After Effects template for checking the Luma key available here.
IPTV - File Specifications
| Content type | Dimensions | FPS | File type | Codec | Duration |
| --- | --- | --- | --- | --- | --- |
| Video | 1920 x 1080 | 25 | .mp4 | H.264 on Black | 15 seconds (looping) |
| Static | 1920 x 1080 | - | .png | RGB with Alpha | - |
Content
Upload
MKTG Drop Asset Name
IPTV
1 x Full
1 x L-Wrap
1 x Strap
1 x Side
IPTV Suite
IPTV Full Frame Only
1 x Full
IPTV Full Frame Only
MKTG has an expert in-house studio, specialising in stadium content creation and conversion.
Find out more here and contact Elizabeth Cook to find out how we can help you.