The print asset refers to the printed signage located around the stadium. This is generally around the front face of the grandstands.
Every stadium has their own signage requirements, however to keep it simple MKTG only require a mock up of one size along with working files. From here the printers will roll out the various size requirements and provide printing proofs for review.
Venues and specs are subject to change as the fixture is finalised. We recommend bookmarking this website and joining our MKTG specs mailing list to make sure you always have the latest information.
If you require assistance understanding these specs or need help creating content, MKTG Studio is here to help.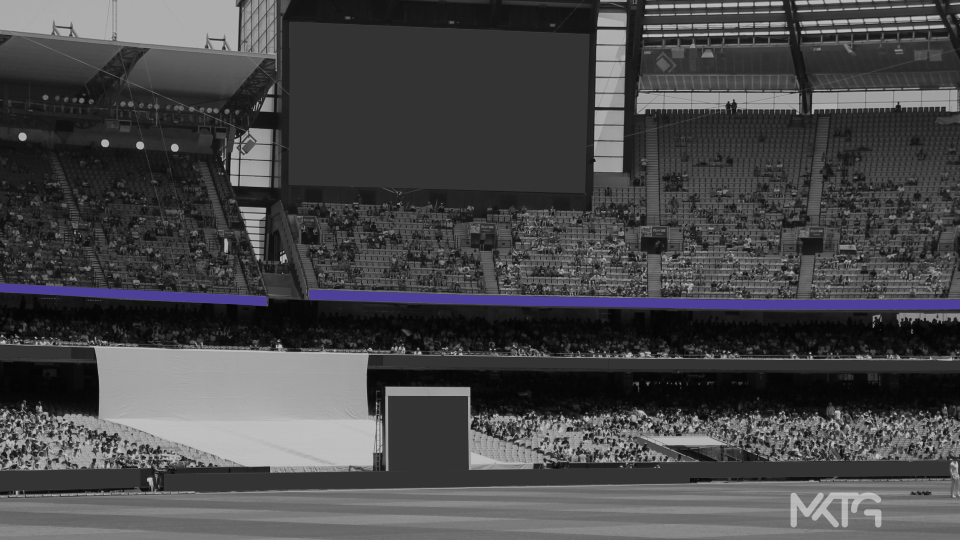 When creating content for printed signage you must provide print-ready pdfs.
If you are unable to create a document the full size of the content, include in the file name what percentage size you have created in (eg. "Signage @50%.pdf").
Include trim marks and colour bars.
Due to the many dimensions print signage rolls out to, we recommend content simply feature a logo or a logo and very short tagline.
Logos should be horizontal / un-stacked.
Print signage can be stored and often re-used between seasons. For this reason we recommend avoiding specific campaign messages.
In support of the McGrath Foundation, the Sydney Test match will be themed pink.
You are invited to show your support by featuring a predominantly pink creative, across your assets.
This is generally achieved by changing the background of your creative to pink.
If you are displaying during this event, you may supply a second version of your creative with a pink background, or simply request the printers to mock up what it will look like.
Pink – C0 M90 Y40 K0
Make sure you read through all our tips and best practice guidelines.
Click a sub-heading to read all about it.
Print signage is to be submitted to Elizabeth Cook via email.
Please also include any specific CMYK values used in your signage, so we can double check this with the printers.
Print assets should be supplied one month before first event.
Contact MKTG immediately if you are unable to meet these deadlines.

File Dimension
9000mm x 800mm
| Type | File type | Colour Space |
| --- | --- | --- |
| Printed | .pdf | CMYK - 300DPI |
MKTG has an expert in-house studio, specialising in stadium content creation and conversion.
Find out more here and contact Elizabeth Cook to find out how we can help you.