Below are our tips for creating the best content for the digital assets this cricket season.
If you are creating content in the tile format, you should create content that doesn't create visible seams between the tiles.
To check the seams between tiles, put all the different tile sizes you have created together end to end, In various combinations, to test if they blend seamlessly throughout the animation.
In a tile LED format, generally the largest tile is used throughout the LED with any smaller tiles used to fill gaps.
Coloured/Textured backgrounds will need to blend from end to end.


Animated elements that move off the side of the tile will need to 're-appear' on the opposite side of all tiles.


You should keep all logos and assets the same size across all different tiles.


Consider your tile designs not only on their own but in relation to each other. If you have a tile that starts and ends with a logo such as below:

When it is tiled, you will end up with two logos next to each other before the text repeats. There is nothing wrong with this, but it is something to keep in mind.

Do not use your elements to cover up the seams, as on the very start and end of each LED bank, they will be cut in half.

If you are required to make an .mp4 file that is larger than 4096 pixels wide, you may run in to some issues. Adobe Media Encoder is able to export larger files, but some settings need to be checked.
First you will need to go to the 'Encode settings' and un-tick 'Profile' and 'Level'.
Then set these to 'Main' and 'Unrestricted' respectively.
Before you render, double check your width and height settings are what you are expecting to export.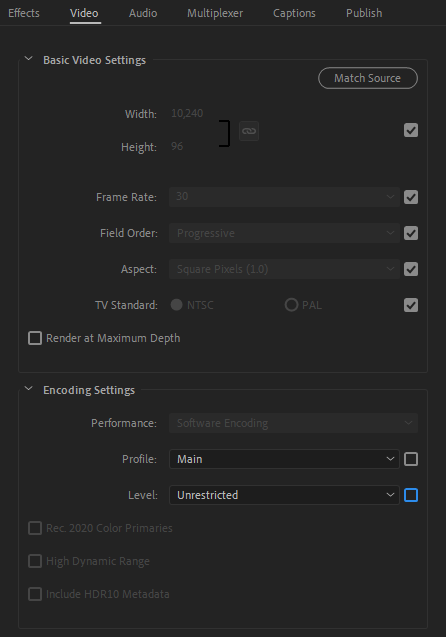 MKTG has an expert in-house studio, specialising in stadium content creation and conversion.
Find out more here and contact Iliyas Hafiz to find out how we can help you.