The LED asset covers the long screens that wrap around the ground on the field level and along the parapets.
These screens are very narrow and run for hundreds of meters. They can be quite challenging to create content for so we have created specs that are as simple and clear as possible.
There are two options for creating content for these LED screens.
The tiled spec lets you supply a small number of files that get played repeatedly around the ground.
The 360 spec allows you to create unique content across the whole LED exactly as it will be displayed.
If you require assistance understanding these specs or need help creating content, MKTG Studio is here to help.
We recommend bookmarking this website and joining our MKTG specs mailing list to make sure you always have the latest information.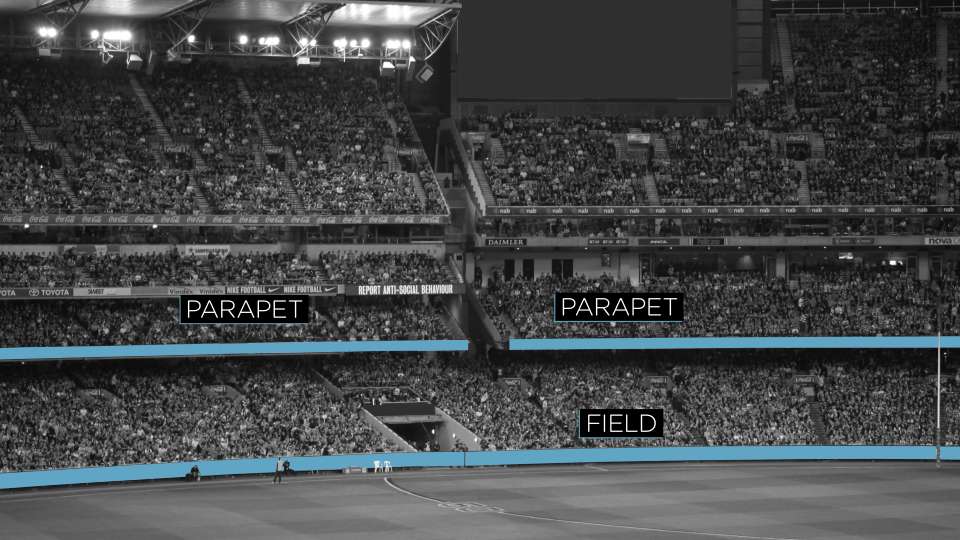 Make sure you read through all our tips and best practice guidelines.
Click a sub-heading to read all about it.
Due to the way the LED are played out, it is important that all files are the same duration.
Where a spec requires a certain duration, the files must all be exactly that duration, and not a frame more or less.
For example if you are required to make content that is 15 seconds long, you can check the duration in After Effects in the composition settings. The duration should read '0.00.15.00'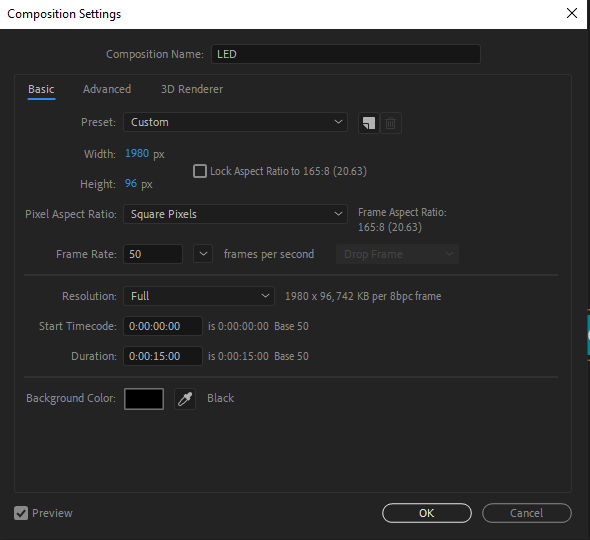 Sometimes when creating files in Adobe Media Encoder or Handbreak, the large dimensions of the LED files can be restricted by the default settings. Make sure to double check the output dimensions.
You may need to change the following Media Encoder settings to the following:
Profile: Main
Level: Unrestricted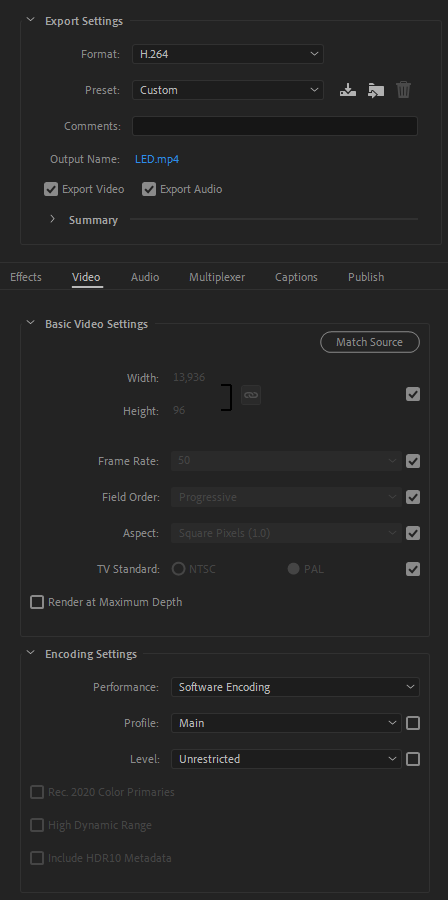 All content is to be provided through our upload and content management portal MKTG Drop.
You will need to be set up as a user, contact the MKTG Drop team to get started.
Instructions for how to use Drop are available here.
Instructions for re-using existing content are found here.
CLUB CONTENT, CLUB COMMERCIAL PARTNERS, CLUB FORM.
| Match day | Deadline |
| --- | --- |
| Thursday | Monday 12pm |
| Friday | Tuesday 12pm |
| Saturday | Tuesday 12pm |
| Sunday | Wednesday 12pm |
| Monday | Wednesday 12pm |
| Tuesday | Thursday 12pm |
| Wednesday | Friday 12pm |
| First Home Match | Content Deadline |
| --- | --- |
| Round 1 | Wednesday 23rd February 2022 |
| Round 2 | Thursday 3rd March 2022 |
| Match day | Deadline |
| --- | --- |
| Any | Monday 12pm |
Contact MKTG immediately if you are unable to meet these deadlines.
The tiled spec is the simplest way to create content for the LED at the MCG / Marvel Stadium.
This system work across both stadiums.
You will need to create 1 file for the field and 1 file for the parapet. These files will be repeated along the entire LED.
You are able to supply static or animated content for this space. 
In game animated content is 15 seconds long, and plays twice in a 30 second slot.
Out of game / Functions animated content doesn't have a specified duration requirement, but we recommend 15 or 30 second loops.


| Location | Dimensions |
| --- | --- |
| Field | 1980x96 |
| Parapet | 520x64 |
Content
Venue
FPS
File type
Codec
In game duration
Out of game / Functions duration
Video
MCG
Marvel Stadium
50
.mp4
H.264
15 sec (played twice)
Unspecified
Static
MCG
Marvel Stadium
-
.jpg or .png
RGB - 72dpi
-
-
Content
Duration
MKTG Drop Asset
In game
15 seconds
AFL LED Tiled - IG
Out of Game
Unspecified
AFL LED Tiled - OOG
Functions
Unspecified
Functions Perimeter - Tiled
Functions Parapet - Tiled
MKTG has an expert in-house studio, specialising in stadium content creation and conversion.
Find out more here and contact Elizabeth Cook to find out how we can help you.